Tow Truck Pulled From Bottom Of Smith Lake
Tow Truck Pulled From Bottom Of Smith Lake
A large, heavy, six wheel wrecker was pulled from the bottom of Smith Lake Monday morning. The location is just north and west of the Smith Lake Park boat launch approximately 114 yards off shore in the main channel.
The wrecker (which sported still visible American Towing & Recovery signage) was discovered by divers last week. The find was initiated when a boater on Smith Lake had his vessel make hull contact with the wrecker underneath the water line. The Alabama Marine Patrol and Alabama Power were contacted soon thereafter.
This led to TowBoatUS and Lyle Wrecker Service being called to evaluate the scene.
After a weekend of calculations and advanced planning, the wrecker was cabled up in the lake to a military style, old school wrecker supplied by Lyle. With a slow, careful reeling in of the cable, the wrecker emerged onto the banks of Smith Lake Park approximately 20 minutes later.
As you can see in this video and accompanying interviews with Captain Jackson Dozier(TowBoatUS), Adam Lyle (Lyle Wrecker Service) and Director Doug Davenport (Cullman County Parks & Recreation), the muddy, foul-smelling wrecker was loaded onto a flat-bed trailer and removed from the scene: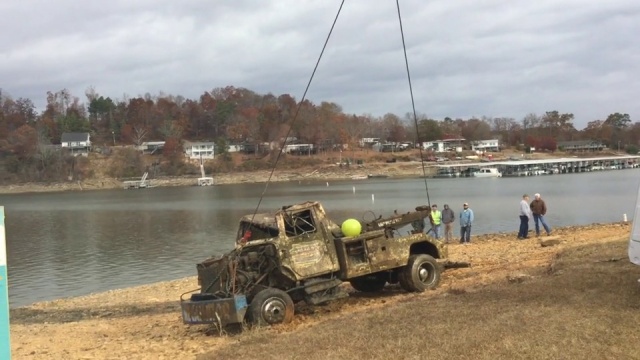 We called the telephone number embossed on the wrecker. The number had been disconnected. We assume the towing establishment is no longer in business. A license plate (with a 2009 date) and the VIN number were recovered by divers. Davenport will be turning that information over to investigators with the Cullman County Sheriff's Office in an attempt to identify the lawful owner of the vehicle.
The vehicle will ultimately be recycled as scrap.
We visually inspected the inside of the cab. No evidence of human skeletal remains appeared present.
The most pressing question at this marine recovery scene was simple: HOW did this vehicle end up at the bottom of Smith Lake? No one has a concrete answer although ample speculative theories abounded. Interestingly, the wrecker was discovered with fully inflated tires, all six of which were firmly planted on the bottom of the lake. The wrecker was right side up, almost like someone, or something had lowered it into the lake.
Smith Lake Park Director Tony Harris summed up the quandary best:



"I didn't know anything about this situation when I arrive at the Park this morning. I suddenly find out they are dragging the lake and pulling out a big tow truck. I have no idea how that could have gotten there. Other than the big cave-in to the cab's roof, the wrecker looks perfectly intact. We really don't have a clue, much less a plausible theory of how it got here."



For the moment, this mysterious situation is being dubbed 'The Tow Truck Pulled From The Bottom Of Smith Lake'. This is occurrence is a first for Smith Lake Park.
Original article: http://cullmantoday.com/2016/11/29/tow-truck-pulled-from-bottom-of-smith-lake/
Contact us any time for a tow truck in Galway
The blog post Tow Truck Pulled From Bottom Of Smith Lake is republished from Apex Towing - Galway Blog
via Website Feeds
http://galway.apextowing.ie/tow-truck-pulled-bottom-smith-lake/